About Ambre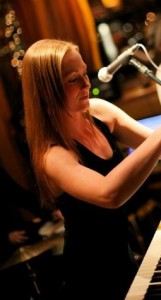 Ambre has worked hard to hone her musical abilities through performances, studies, and composition. She holds a bachelor of arts degree in music therapy, including a full-time 1000 hour internship in an elementary school and in long-term care, and then over five years of experience in the field, providing music therapy with these populations. She has a three-year diploma in jazz music performance from Vancouver Island and currently manages her jazz quartet, Espresso Martini (to book, go to contact). Espresso Martini has been performing live for ten years throughout Vancouver and Vancouver Island and much less so since spring 2020. They play private parties, weddings, lounges and small stages, with a reputation for a unique sound, musicianship, professionalism, presentation, and mixing traditional with modern jazz. Ambre is comfortable in the contexts of both studio and live performance. Her style is influenced by many vocalists such as Billy Holiday, Erykah Badu, Jill Scott, Nina Simone, Astrud Gilberto, and Betty Carter. Her own style ranges from R&B to jazz. Born and raised on Vancouver Island, some of Ambre's earliest singing experiences were at church. She started classical piano at the age of seven.
When Ambre was ten years old, she attended a school with an established musical theatre program in which she was actively involved. During this period, she began private vocal training, and continued classical piano lessons. The musical theatre training helped her land a television commercial and develop a passion for being involved in performance and music. From a young age, Ambre was committed to writing poetry and journals. She recalls writing songs at the age of eleven and singing them on friend's answering machines, at school lunch hour and in made-up plays, for which she would organize rehearsals. At fourteen, she composed her first classical piano piece by ear, Rain.
Ambre went on to study jazz at university for three years, including theory, arranging, lessons, history, combos, studio, and choir, and then a bachelor of arts in music therapy.
Ambre currently sings and plays piano with a jazz trio, with stand-up bass, drums and guitar, teaches piano and yoga, and is working as a music therapist while writing and recording her next album. Her trio is available for private parties, corporate functions and lounge acts.
Currently underway are performances, a new album, and working with children and seniors, both teaching piano and through music therapy. Helping people through music has been a passion for Ambre from a young age when she used to go to a long-term care home to sing to the residents.
Check out "Path of Soul" on CD Baby or I Tunes, at her shows, or on the home page Please feel free to contact Ambre through the contact here, or email ambresong (@gmail.com) for bookings, piano lesson or music therapy inquiries.